These aren't all the movies I saw in 2017 – and admittedly, I didn't see much – these are just the ones that stuck with me, in no particular order. (And looking at this list, it's interesting how many of these are definite, rule-breaking, outside-the-box blockbusters. Nice to know that kind of thing is still possible…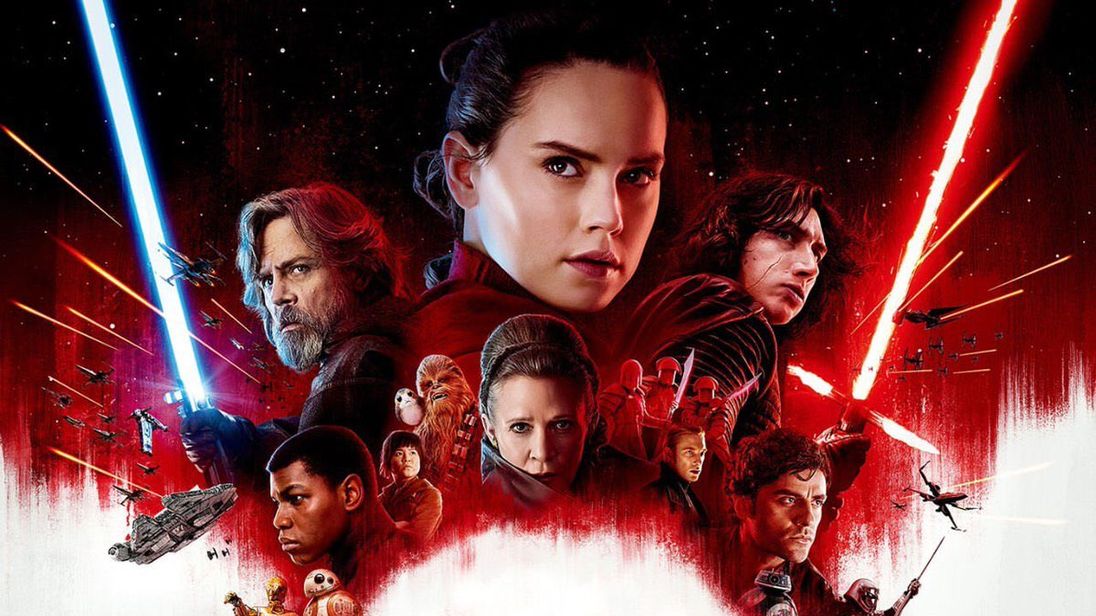 STAR WARS – THE LAST JEDI
Star Wars is weird.
It's easy to forget that the original Star Wars movies – especially A New Hope – are odd, personal, deeply idiosyncratic movies. It's also easy to forget that the initial critical reaction to The Empire Strikes Back was a little mixed and muted. It's also my personal theory that even if Lucas had managed to get the dialogue and characterisation a lot sharper and stronger on the Prequels, people would still have mostly disliked or hated them because they "weren't enough like 'proper' Star Wars".  The franchise has become such an impossibly huge cultural lodestone that it's easy to go to a Star Wars movie in the wake of The Force Awakens and just expect roughly the same as what we got last time.
The Last Jedi doesn't do that. It swings for the fences in a whole series of bold strikes, not all of which hit, but which are all fascinating for what they're trying to do, which is blow the mythic structure of Star Wars wide open. Where The Force Awakens was a joyful sugar rush of nostalgia, The Last Jedi digs deeper into the story and the characters for a movie that's singularly bonkers in a number of unexpected ways.
It's a bit too long. There are a few moments where the storytelling gets a bit vague and hand-wavey (although these are NOTHING in comparison to some of the world-building plot chasms in The Force Awakens), and it's a very particular kind of movie that ain't necessarily going to land in the same joyful sugar-rush Force Awakens style for everyone. But it's amazing to see a Star Wars movie this willing to take risks and do weird, unpredictable things, and tell a story that's chewy and thematic and personal. Some will love it. Others will be nonplussed by it. But I'd rather have that than a franchise that's stuck being a late 1970s George Lucas cover band until the end of time.
WONDER WOMAN
Possibly the best superhero origin movie since Superman: The Movie, which is ironic since Wonder Woman also shares a number of the same weaknesses – it's at least twenty minutes too long, it's tonally all over the place at times, and it comes close to falling apart in its big dramatic climax. But despite this (and some choppy action editing and overdone speed-ramping), this is also a beautifully earnest superhero epic that gets the thematic weight of World War One right, and brings the character of Diana to life in a way that emphasises her humanity and compassion. It's a superhero tale, a war epic, a fish-out-of-water comedy, and a charming-as-hell love story as well. And the fact that it did all of this while being part of the otherwise shambolic DC Movie Universe only makes it more remarkable.
LOGAN
The moment I saw the Johnny Cash-scored teaser trailer above, I thought "Oh heavens, this movie has a good chance of completely destroying me". And I was pretty much right. An R-rated, hyper-violent Wolverine movie sounded like a bad, potentially gratuitous idea in theory, especially one that was inspired by a Mark Millar comic, of all things – what I wasn't expecting was an amazingly well-crafted bleak near-future superhero western that takes an unflinching look at ageing, mortality and the true cost of violence. Both Hugh Jackman and Patrick Stewart have rarely been better than here, and it's one of the few superhero movies that genuinely transcends its genre. Just make sure you've got something happy to watch afterwards, for heaven's sake…
DUNKIRK
There's an opinion that gets hurled around a lot online that Christopher Nolan is a Stanley Kubrick-style emotionless Vulcan who makes movies that are absent any human feeling, and it's heinous bollocks of the highest order. Yes, there's a chilly, steely precision to a lot of Nolan's films and he isn't the best at BIG emotion (as proved by some of the weaker moments of the flawed but wonderfully ambitious Interstellar), but I don't think an unfeeling Vulcan-style filmmaker would have been able to make this portrait of the Dunkirk evacuation quite such a traumatic and terrifying experience. Simultaneously a stripped down, experimental arthouse movie, a historical epic and a suspense flick, Dunkirk isn't the place to come for historical context – this is an experiential, almost backstory-free movie that's all about making you feel what it would be like to be in that situation, and Nolan makes every second count. He's also one of the only filmmakers around who can still get away with doing deeply experimental movies on a blockbuster scale and actually get people to watch them.
THOR: RAGNAROK
The moment I heard that one of Taika Waititi's touchstones for Thor: Ragnarok was the 1980 version of Flash Gordon, my interest was sparked – and the moment I saw the first trailer, I felt confident I was going to love a lot about this film. The end result is a gloriously kooky superhero movie that balances out some so-so storytelling and weird pacing with day-glo visuals and some incredible comedy. It's a healthy up-side of Marvel's continuing success that they're able to push the envelope as far as they do here , and it was around the extended homage to the insane 'Willy Wonka and the Chocolate Factory' tunnel sequence that I realised exactly how insane this film was prepared to go. The Jack Kirby-inspired production design is a delight, Chris Hemsworth is clearly having so much more fun getting the chance to flex his comedy chops, and it's great to get a Thor movie that taps into the splendour and weirdness of classic runs like Walter Simonson's Surtur Saga, while also adding its own deeply bizarre humour.
BLADE RUNNER 2049
I have extreme difficulty believing this film exists. A Blade Runner sequel was mooted for so long, and so obviously a bad idea (especially after the messy results of Ridley Scott returning to the Alien universe for Prometheus). It felt like a project doomed to failure – and then Denis Villeneuve came along, and ended up delivering a moving, absorbing and stunningly gorgeous 2 & 3/4 hour sci-fi tone poem that took the mood and themes of the original movie and pushed them even further. Visually and conceptually there is some utterly brilliant stuff here, and some major surprises as well – most notably, Harrison Ford giving a great, nuanced turn as an older, sadder Rick Deckard. I'm not in any way surprised that it didn't do well financially – moody, dark SF that's heavily influenced by the cinema of Andrei Tarkovsky was never going to be a major box office draw, especially when it's a 35-years-later follow up to a noted financial bomb turned cult favourite. Yes, it's too long, and it doesn't manage to capture the original's suspense or intensity, but I'm just glad that a lot of people took a risk on something quite so bizarre, and that I'll soon have the chance to buy the Blu-Ray and immerse myself in those intoxicating Roger Deakins-shot visuals once again.